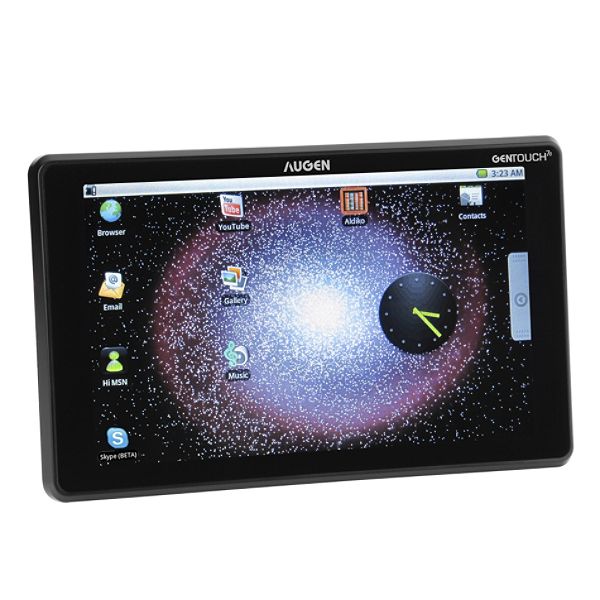 This is just a shortie. I have been in IT for 30 years, since Hard Drives were 10MB per refridgerator sized box. And the one thing that I have always known is your satisfaction is drectly tied to your expectations.
If you expect a $150 tablet to compare to and $800 Ipad youre not only delusional but stupid.
If on the other hand you look at everything ese in this category (plain E-readers) and understand just how much MORE this is capable of, then you are going to get an AMAZING bargain.
There is ONLY one CON and I dont know if they will be able to resolve this for folks like me who own the 1st series, and that is the fact that they all have the same MAC address. The 2nd run shouldnt have that issue and from what I have read it HAS been resolved.
I wish I had bought two.
The GENTOUCH78 is a sleek Android™ powered tablet with a 7" touch screen. The GENTOUCH78 has an 800 pixel wide resolution and a 7" screen, allowing web browsing in full width. Unlike the experience on other mobile devices (small screens and slow speeds), the GENTOUCH78 offers a true web browsing experience, with web pages displayed in full screen. No need of zooming in and out as the text is easily viewable on the 7" screen. The GENTOUCH78 tablet is the perfect device for enjoying and sharing your multimedia content. Enjoy movies, music and photos on the 7" high-resolution touch-screen. You can even watch your favorite movies in HD (720p) on the GENTOUCH78. Includes leather carrying case, USB Cable (for data transfers only) and UL certified AC adapter.
* 800x480 color TFT touch panel screen
* CPU: 800 Mhz
* Ram: DDR2 256mb
* Internal Memory: 2GB
* Expansion Slots: SD/MMC card slot up to 16GB
* Supports Ebook Formats: Text, PDF
* Supports Media Formats: MP3, WMA, FLAC, AAC
* Picture Viewer in JPEG, BMP
* Video Player WiFi: Built-in 802.11 b/g
* Rechargeable Lithium 2100mAh
* Carrying case included
* Unit dimensions: 7.36" x 4.65" x 0.63"